The Elk Grove Civil War Round Table is a non-profit, educational organization that promotes the history of the American Civil War
ESTABLISHED JUNE 1993
THE ELK GROVE CIVIL WAR ROUND TABLE MEETS ON THE THIRD WEDNESDAY OF EACH MONTH (EXCEPT DECEMBER)
Denny's Restaurant
8707 Elk Grove Blvd.
5:30 P.M. NO HOST DINNER
6:45 pm THE GRAND REVIEW-GUEST SPEAKERS-PROGRAMS
Phone:

Bob Bundy-916-682-8503
Email:rfbundy31@hotmail.com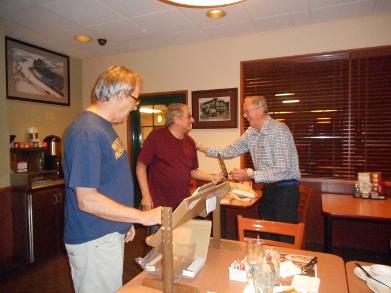 An excellent meeting was held on Weds. August 16 2017 with members sharing their favorite books and civil war items. Good job by everyone! Very entertaining!
-----------------------------------------------------------------------
George Beitzel,(Above right)- long time President of the Elk Grove Civil War Round Table, announced his resignation on March 15, 2017. George was elected President in November of 1995. He did a great job in guiding the Round Table over the years. We will enjoy his company as a regular member of the Round Table. Thanks George!
Bob Bundy will fill in as President.
Below-George receiving an honor award for his years of service to the Round Table.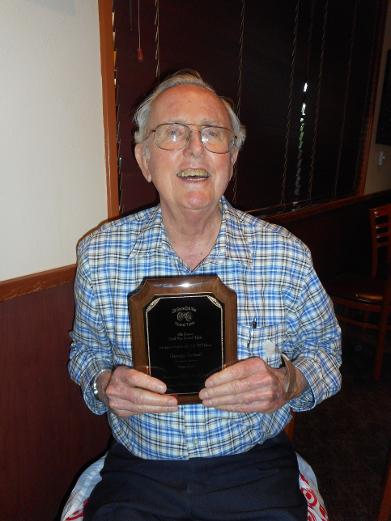 SHIRTS AND HATS AVAILABLE
ELK GROVE CWRT SHIRTS AND HATS ARE ONCE AGAIN AVAILABLE FROM PAULA MAITA & CO 9020 ELK GROVE BLVD
PRICES VARY ON WHAT YOU ORDER. YOU MUST REQUEST OUR LOGO
SPEAK TO ANGELIA WHEN YOU VISIT THE STORE!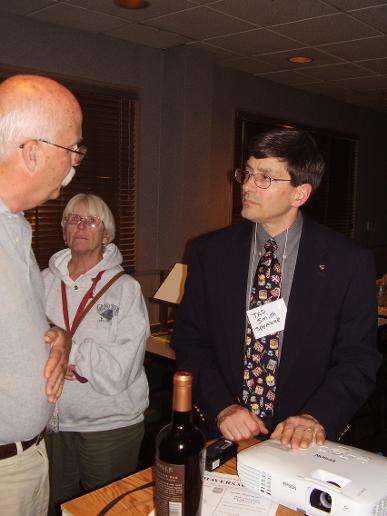 Dr. Tad Smith has been a guest speaker on several occasions.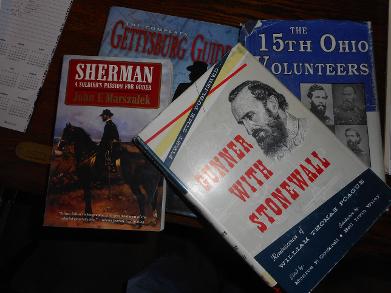 Members of the Round Table brought their favorite books to a meeting on August 16, 2017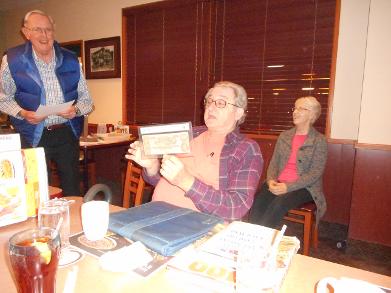 Show and Tell is always a much looked forward to part of our meetings. Here, Member Steve Von Bima shares Confederate Money with the group.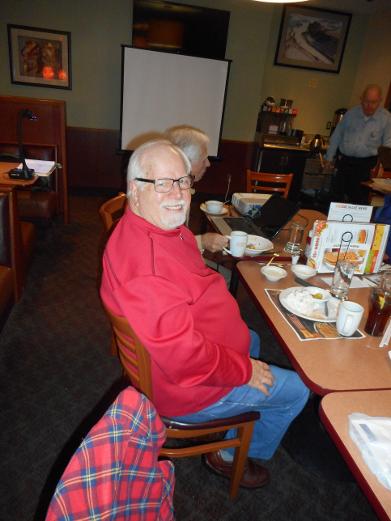 Lincoln Historian Glenn Leake spoke his pieceon Nicolay and Hays to the Round Table in May, 2017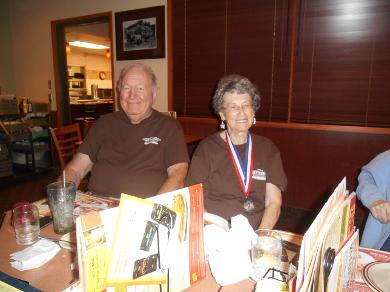 Two of our favorite speakers will be presenting programs this year. Fred and Kathleen Robinson are entertaining and educating. Great Job!.
Next Meeting:
CIVIL WAR HOSPITALS
by member
KATHLEEN ROBINSON
Wednesday, April 17, 2019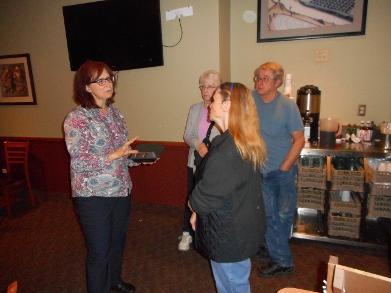 Our thanks go out to History Professor Sherri Patton for her excellent talk on Civil War Diplomacy. The give and take with the membership made for a very enjoyable and learning experience. April meeting.2017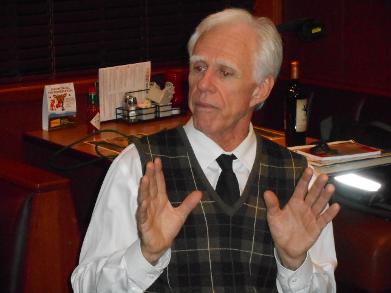 Author and Teacher Larry Tagg talking about his upcoming book "The Generals of Shiloh--November 16, 2016 .
------------------------------------------------------------------
2019 SPEAKER SERIES
January 16--Cancelled by weather
February 20--Judah Benjamin and Carl Schurz by Member David Beales
March 20-Three Men Who Could Have Shortened the Civil War by Member Bernie Quinn
April 17--Civil War Hospitals by Member Kathleen Robinson
May 15--The Wit and Wisdom of Abraham Lincoln by Guest Arnold Kunist
June 19--Vicksburg Part 2 by guest Robb Orr
July 17--TBA--Kathleen Robinson
August 21--TBA by Member Glenn Leake
September 18--Civil War Artillery by Member Fred Robinson
October 16--John Wildey, Ellsworth and Baseball by guest Meg Groeling
November 20--"Is The Civil War Over?" Guest Speaker Doug Bonetti
NO MEETING IN DECEMBER
2018 Speaker Series
January 17--Berdan's Sharpshooters by Member Bernie Quinn
February 21--15th Ohio Vol. Inf. by Bob Bundy
March 21--Generals of Shiloh by Guest Larry Tagg
April 18--The Aftermath of Battle by Guest Meg Groeling
May 16-Civil War Artifacts by Guest Doug Bonetti
June 20--U.S. Sanitary Commission by Member Kathleen Robinson
July 18-The Further Adventures of Berdan's Sharpshooters by Bernie Quinn
August 15--Civil War Veterans after the War by Member Glenn Leake
September 19-2nd Ohio Volunteer Infantry by Member Fred Robinson
October 17--Famous Civil War Nurses by Kathleen Robinson
NO MEETING IN NOVEMBER AND DECEMBER
-------------------------------------------------------------------------
2017 Speaker Series
January 18--Civil War Military Uniform Buttons
by Frank Higginson
February15--Civil War's Famous Feuds by Bob Bundy
March 15--Joshua Chamberlain part 1 by Bernie Quinn
(The Rebel and the Rose and Lost Confederate Gold by Guest Silver Williams) CANCELLED
April 19--Civil War Diplomacy by Professor Sherri Patton
May 17--Hay and Nicolay by Glenn Leake
June 21--Civil War Curiosities by Kathleen Robinson
July 19--Joshua Chamberlain part 2 by Bernie Quinn
August 16--Distinguished Service; The Career of General A.A. Humphreys by Susan Williams-CANCELLED
August 16--Members Favorite Civil War Books
September 20--Reconstruction by Fred Robinson
October 18-- In Camp Between Battles by Kathleen Robinson
November 15--Civil War Music by Steve Davis
December--No Meeting
Past Schedules
2016 Lecture Series
January 20-"Civil War Veterans in Egypt" by Dr. Blain Lamb
February 17-"An American Civil War Games" by The Karlbergs
March 16, 2016--"Women Who Fought in the Civil War by Erin McCabe
April 20--"The Slaves War" by Andrew Ward
May 18--"The Battle of Vicksburg" by Rob Orr
June 15--"The Landsman Family" by Kathleen Robinson
July 20--Alabama and Kearsarge by Joe Maxwell
August 17-Civil War Casualties by Fred Robinson
September 21---"Lucy Pickens: Queen of the Confederacy" by Dr. Tad Smith
October 19--"The Rebel and the Rose" by Silver Williams CANCELED
REPLACEMENT SPEAKER-Flight Into Oblivion-Confederate Cabinet on the Run by George Beitzel
November 16--"The Battle of Shiloh" by Larry Tagg
2015
JANUARY 21---"The Fort Pillow Affair" by Guest Speaker Andrew Ward
February 18---"Military Innovations" by Member Kathleen Robinson
March 18--"Custer--Part 2" by Guest Joe Maxwell
April 15--"The Worst Seat in the House"" by Member George Beitzel
May 20--"Stealing Lincoln's Body" by Member Glenn Leake
June 17--"Two Brothers in the Civil War" by Member Susan Williams
July 15--"Civil War Firsts" by Member Kathleen Robinson
August 19--"Wilson's Creek and Simon Hansmeier" by Member John Tyler
September 16--"The Great Locomotive Chase" by Member Fred Robinson
October 21-"The Burning of Columbia" by Member Bob Bundy
November 18- "The Failed Struggle to Obtain Recognition of the Confederacy by England and France" by Dr. Tad Smith
Past Schedule-2014
January 15, 2014--Underground Railroad by guest Denise Polt
Feb. 19--Union Soldiers Fight the Sioux Nation by Member Tim Karlberg (Cancelled Due to Illness)
Replacement Program---Civil War Ohio by Member Bob Bundy
March 19--O Little Town of Gettysburg by Member Kathleen Robinson
April 16--George Custer by Joe Maxwell
May 21--Judson Kilpatrick by Member Glenn Leake
June 18--Elizabeth Van Lew, Spy Master by Guest Silver Williams
July 16--Union Soldiers Fight the Sioux Nation by Member Tim Karlberg
Replaces The Battle of New Orleans by Guest Paul Ruud
August 20--Civil War Medicine by Guest Don Hayden, M.D.
September 17--Pre-Civil War Abolitionists by Member Fred Robinson
October 15--Sacramento and the Civil War by Karen Richey
November 7-9
WEST COAST CIVIL WAR CONFERENCE
Sacramento, CA
November 19--Coins and Currency of the Confederacy by Dr. Tad Smith
--------------------------------------------