ELK GROVE CWRT ENTERS 24th YEAR!
June of 2017 marks the 24th anniversary of the Elk Grove Civil War Round Table
BOOK NOW AVAILABLE!
Our book, CAMPFIRES, is available at any meeting of the Elk Grove CWRT. The book includes a complete history of the EGCWRT up to 2013. Copies may be purchased for $10 each.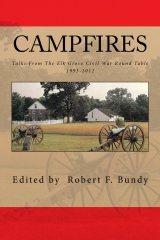 The 20th anniversary of the Round Table was celebrated with a new publication. Campfires II, a compilation of past Round Table talks is now available on Amazon.com
Members George Beitzel, Jacque Bundy, Bob Bundy, Dave Smoot, Steve Von Bima and Joe Fabel all contributed to the newest volume.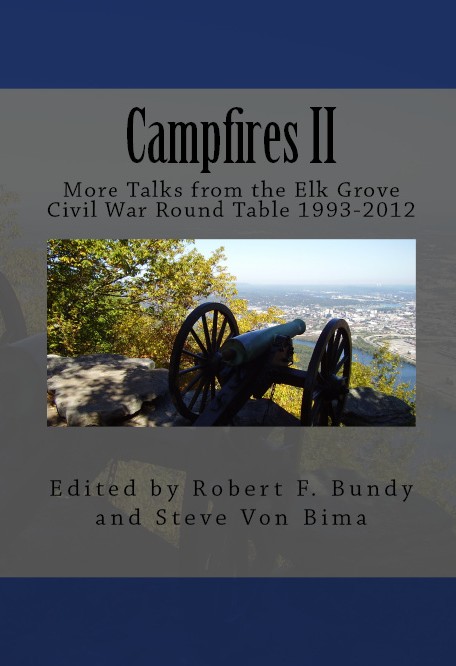 MEMORIAL DAY 2011
The Elk Grove CWRT was well represented at the Elk Grove Cemetery's Memorial Day Program on Monday May 30, 2011. Member Joe Fabel read a poem that he wrote for the occasion and member Hank Pezzetti arrived with a group from the Elk Grove Marine Corps League.
Don Nottoli, of the County Board of Supervisors was the keynote speaker. The Fife and Drum Corps from Chico added a Civil War flavor to the program.
Due to declining attendance at City Cemetery, it was decided to forego the Civil War Memorial Day Tour this year. A program may be in the works for later this year to dedicate the new Civil War signs that are being produced by the Elk Grove CWRT.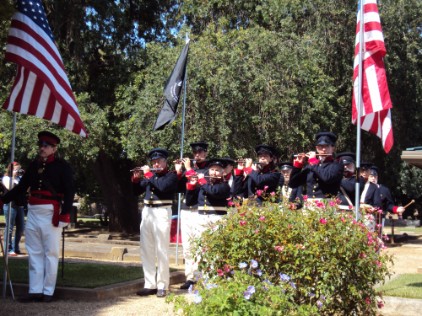 The Fife and Drum Corps of Chico ended the program with the Battle Hymn of the Republic.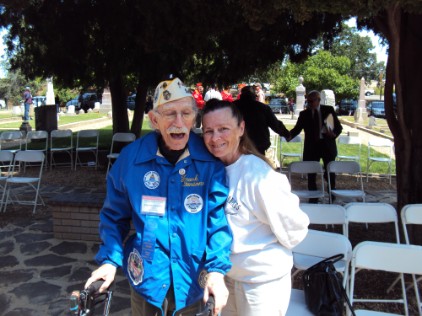 Jacque Bundy with Pearl Harbor Survivor Frank Sansone
NEW MARKER FOR ELK GROVE CIVIL WAR VETERAN
The descendants of Corporal James Thwing Ellis of Co. H, 11th Maine Volunteer Infantry gathered on Saturday, May 29, 2011 at the Franklin Cemetery on Hood-Franklin Road. The family made the connection after doing genealogical reasearch and obtained Corp. Ellis's pension records.
Bob and Jacque Bundy attended the dedication on behalf of the Elk Grove Civil War Round Table.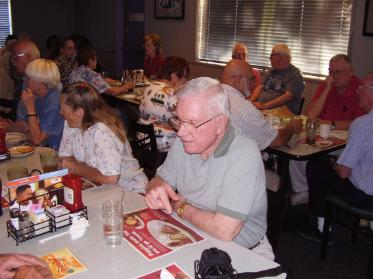 Jacque Bundy and Joe Fabel enjoy the August meeting of the Elk Grove CWRT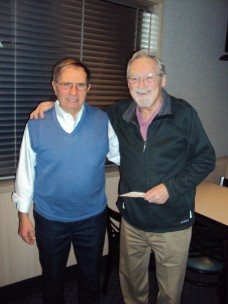 Paul Ruud (left) and Don Hayden of the Sacramento CWRT joined us for the first meeting of 2012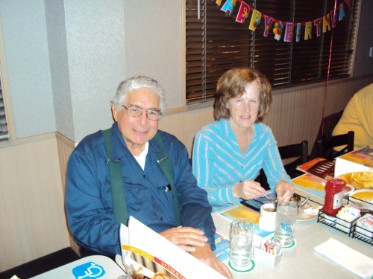 Chuck and Becky Davis enjoy the meeting after a long absence.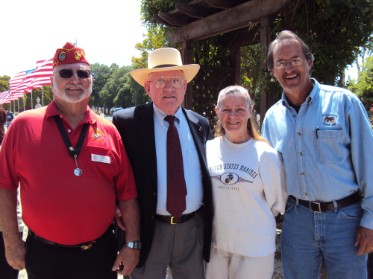 Hank Pezzetti, Joe Fabel, Jacque and Bob Bundy at Elk Grove Cemetery's Memorial Day services.
(Photo courtesy of Laura Bemis)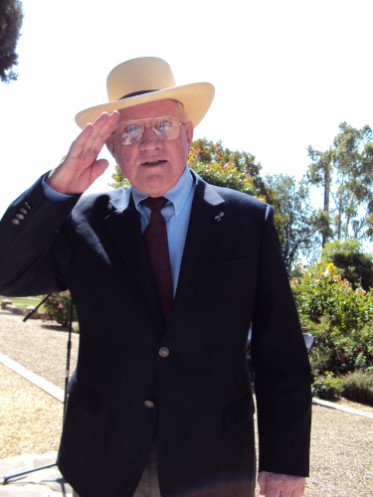 Joe Fabel salutes the veterans on Memorial Day 2011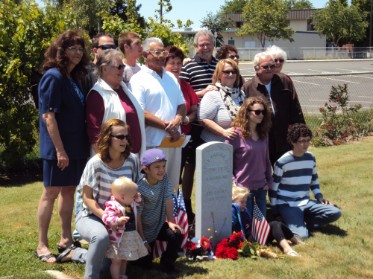 Decendants of Corp. Ellis gather to dedicate a new grave marker for the Elk Grove Civil War Veteran.